Building legacies to be proud of
Committed Business Advisors
Creative Strategist & Tactical Executioners
Passionate Organizational and Culture Architects
Focused Results Accelerators
L&L Associates is focused and committed to providing our clients with comprehensive advisory services to help teams achieve outstanding results, and enable leaders along their leadership journey. We use a methodical and thoughtful business approach when delivering our consulting services, working to develop strategy, and in building an effective culture via our organizational and talent development processes.
L&L Associates was founded nearly 25 years ago with a simple but profound mission and purpose: To propel people and teams to reach their pinnacle and build legacies they can be proud of. We are a purpose driven leadership & management advisory group focused on: strategy development and execution, organizational & talent development via a unique and tailored curriculum of courses, and leadership development and executive coaching.
CQ: THE LEGACY LEADER'S SUPERPOWER Driving Cultural Intelligence from the Boardroom to the Mailroom
Complex, diverse, global, and interdependent – that's the world leaders lead in today. Cultural Intelligence (CQ) is a must have competency for the leader of today who wants to build for tomorrow. Leadership expert and author Tony Lopez is insightful, and right on point in this gem of a book. In a thought provoking and fun read, he outlines what we need to know about CQ and how we develop it to become better leaders. Understanding Cultural Intelligence is paramount to any business leader of an organization, at all levels, including the board of directors. An organization that does not embrace Diversity, Equity, and Inclusion (DE&I) will not survive. DE&I and CQ are no longer a "nice to have"; they are imperatives. "CQ: The Legacy Leader's Superpower" is the roadmap to enable us to become high CQ leaders and build organizations that leverage cultural intelligence from the boardroom to the mailroom to drive breakthrough results.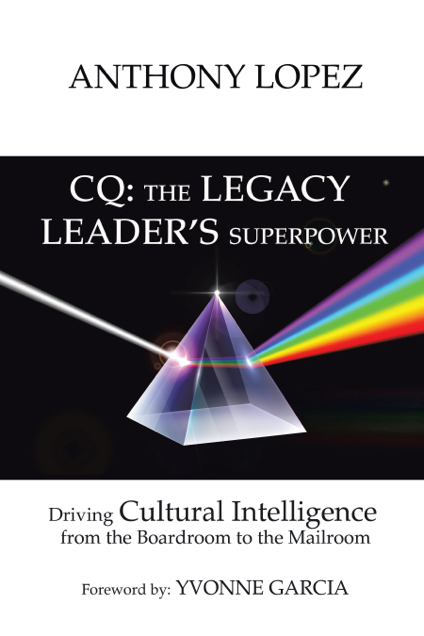 "Dynamic.  Inspirational.  Educational.  Fun.  As a strategist, Tony and the L&L Team are brilliant.  As a speaker and educator, Tony presents leadership principles in they most memorable way, and inspires us to create legacies we can all be proud of.  And as an executive coach, he will drive you – as he has me – to be the best legacy leaders we can be!"
— Lili Gil, CEO & Founder, CIEN+
"L&L Associates inspired our company to come together as a team. Our style of communicating with each other has evolved to become fluid and effective. This has allowed us to foster the culture we always dreamed of. We are grateful that Tony, L&L's CEO, helped lead us here!"
— Hillary Long, CEO, Citro Digital
"Tony promised he would energize our team to develop a winning strategy, and set a course for success and growth.  He delivered"
— David DiStefano, President, EXUDE
"I really appreciate Tony's unique set of global experiences that make him invaluable to my team as a strategist, a talent architect, and executive coach."
— Marcelo Anteparra-Naujock, CEO, Caffelli